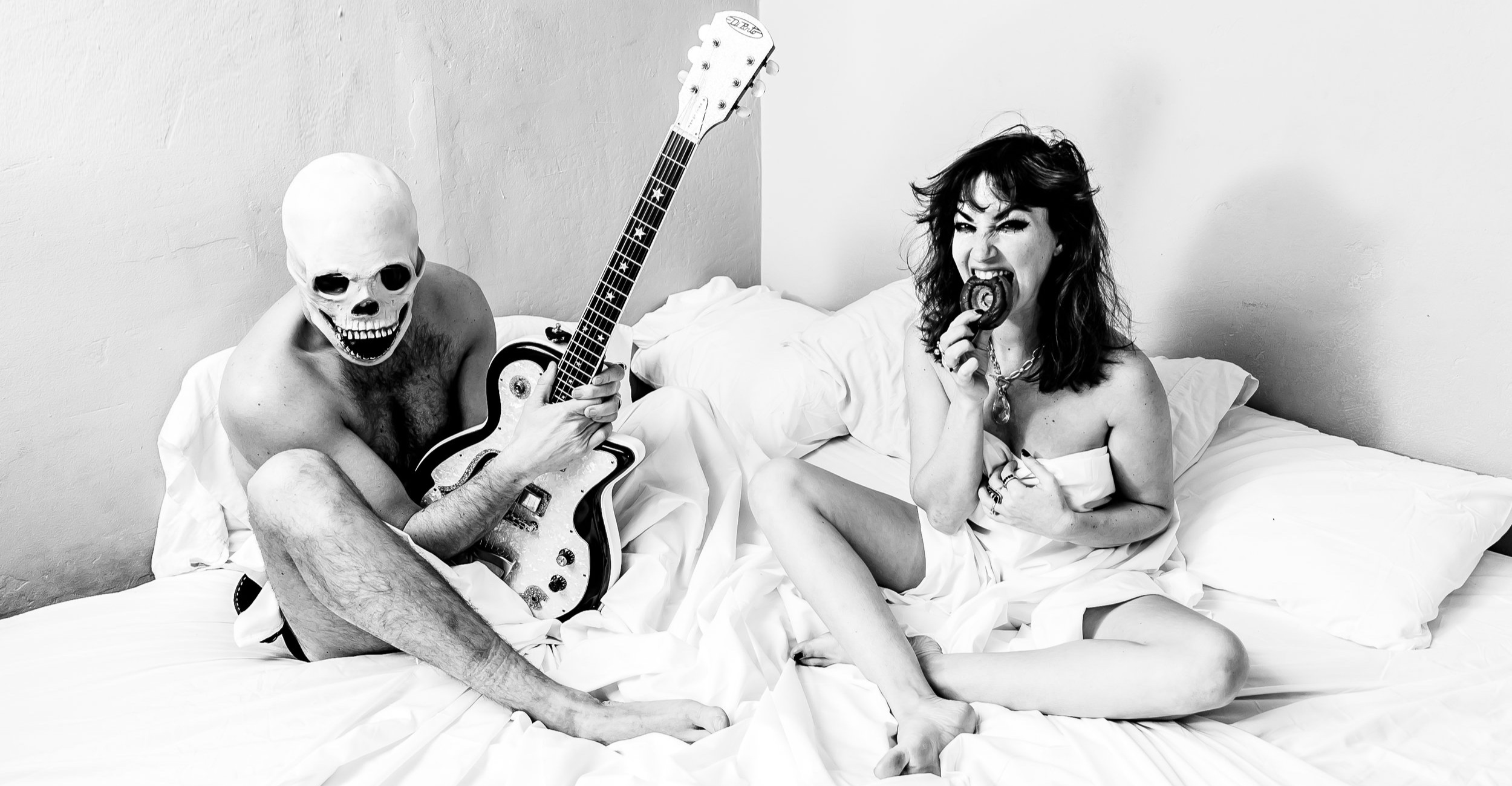 HUFFINGTON POST: "Instantly fell in love with their tantalizing sonics, and their energetic, apocalyptic marvel"
CONSEQUENCE OF SOUND: "Takes your heart by the hand and leads you to the dance floor, daring you to not feel motivated to dance, shimmy, just escape the mundane."
TIME OUT: "A superb punch of musical bliss. Their future is bright."
PASTE MAGAZINE: "KOLARS play their unique blend with every inch of their body."
UNDERGROUND ENGLAND: "KOLARS are as if T-Rex and the Pixies had a love child who was born tap dancing on a drum kit and with a no-shits-given punk aesthetic… ok they're maybe not so simply put. Despite being hard to describe, their music unifies the past and present with a sprinkle of their own flare… they aren't afraid to play music instinctively as opposed to falling into trends."
MIKE MCCREADY of PEARL JAM: "When I first saw KOLARS live, I was incredibly impressed! Their live dynamic is nothing like I've seen. The modified drum kit, the tap dancing, the amazing songwriting. They have it all! One of my new favorite artists."
TEAM COCO (CONAN O'BRIEN): "Out of this world."
FLOOD MAGAZINE: "A weighted blanket of roots rock thick with retro-FM production and big guitars. Matching classic Roxy Music stylings with echoes of Franz Ferdinand, KOLARS have delivered one for the collection."
FORBES: "KOLARS, part of the new generation of music entrepreneurs."
BANDSINTOWN: "A highly experimental duo committed to creating a new sound that will thrill audiences all over the world"
SPIEGEL ONLINE: "On the stage it is very sexy, when listening to the record it's very warm to the sad heart"
DENVER POST: "KOLARS has a knack for buffing your weathered perspective to a glinting sheen. The world isn't on fire; it's glowing."
GRIMY GOODS: "A MUST LISTEN. Both upbeat, and soft and sultry when it needs to be. You can't help but let yourself get lost in Rob's croons and bewitching words."
BUZZBANDS: "KOLARS sets the imagination a'sizzling. Rob Kolar, with his rocker swagger, and Lauren Brown, licking her lips as she uses her whole body to tap and smack out the beats."
TORONTO STAR: "Rob is a guitar pro with a throaty voice. Lauren provides potent accessorizing to his style, hammering away on a kit while tap-dancing on a customized bass drum."
THE BOTTOM LINE: "The dynamic duo is eclectic in every sense of the word. And with a musical style ranging from 'Desert Disco' to 'Space Blues' (which is just as entertaining as it sounds), there was never a dull moment on stage."
LEMONADE MAGAZINE: "Their chemistry on every track of the album is sublimely in-sync. The more you listen to the album, the better it becomes. It is addictive."
FEST FIFTY: "With gumption and undeniably well-written songs, KOLARS has burrowed through the consciousness of their hometown and beyond, paving a road of lullaby disco anthems wriggling their way across the Mason Dixon."
This is Beau. One of our biggest fans. We wanted to share this story as we find it so moving and inspiring.
Laura (Beau's adopted mother):
Beau was born in April 2012 drug and alcohol exposed. My husband and I heard (through a series of odd circumstances) that there was a baby that had just been born that was very sick and had no one to be with him in the hospital. It was an awful story and we just couldn't shake the sadness of situation, so we decided to go visit- as soon as we saw this weird little, teeny, tiny potato baby we were totally in love. We knew we had to give him a home. It was crazy because we were never going to have kids- we were so sure. We were just going to be lazy and eat. But then we met this baby boy.
Beau went through withdrawal for the first 186 days of his life. It's so much worse than what they show you in movies, but little man was strong and he made it through. The drugs and alcohol in utero did do a lot of damage to his body. Developmentally he didn't hit milestones, he had difficulty with balance and muscle control, he couldn't stay healthy for more than a few days at a time, and he never spoke.
Somewhere around 2 he was also diagnosed with Autism and multiple therapies were started to keep his development chugging along, with music always remaining his strongest motivator. He started making his own playlists on his iPad and looking for his favorite music videos on YouTube. Music made his life bearable and doable for him. We started taking him to concerts and that's when he really fell in total heartfelt love with music.
He saw you guys for the first time at The Wiltern and then in Oakland at the Fox with Shakey Graves, one of his favorite artists. When you guys hit the stage, Beau had an immediate reaction. I had never in his life seen him so joyous and animated. He kept grabbing our hands and squealing and clapping and saying "look!" Like he wanted to make sure we were actually seeing this too. It was so much fun to watch him have so much fun. When we saw you guys in Oakland, he couldn't even sleep the night before he was so excited. He was just shook through the whole performance. He danced until his legs gave out, then he almost flipped his wheelchair over. Since we saw you guys we've been listening to your album non stop. He dances and taps and drums. It's just joy. You guys give him so much joy.
A couple of weeks ago we were in the car listening to you guys and this little, tiny, unused voice says "play Dizzy please". It was Beau's longest unprompted, functional sentence he's ever uttered. He asked for his favorite song- he communicated with us all on his own and it was fucking amazing, and we played Dizzy for him AND after it was over he said "again" and we all just about crashed the car and lost our minds. You guys did that, you gave him the inspiration to use those words, to talk to us. I don't even have words to explain to you how impactful that is in our life.